Page 1 of 8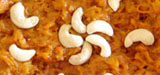 Special occasion or fancy trying to make some of those dishes you find on the streets of authentic India? Well here are some recipes you just have to try! Coconut Laddoo's to Carrot Halwa, there's something to try for everyone.
Coconut Laddoo
Ingredients
1 cup suji (semolina)
1 1/2 cups grated fresh coconut
1 tin Milkmaid
1 cup caster sugar

Method:

1. Roast suji in a round vessel and when it starts turning light brown take it out and keep aside.
2. Add atleast one cup grated coconut to the semolina and keep the mixture to cool down.
3. Keep rest of the grated coconut to wrap the laddoos.
4. Put caster sugar after a while and add ¾ tin milkmaid. Mix well.
5. Make small balls of the mixture.
6. Roll the balls in the coconut powder.
7. Place it in the refrigerator.
8. Laddoos are ready to serve.