Anand Karaj (ਅਨੰਦ ਕਾਰਜ, anand kāraj) is the Sikh marriage ceremony, meaning "Blissful Union" or "Joyful Union", that was introduced by Guru Amar Das. The four Lavan (marriage hymns which take place during the marriage ceremony) were composed by his successor, Guru Ram Das. It was originally legalised in India through the passage of the Anand Marriage Act 1909 but is now governed by the Sikh Reht Maryada (Sikh code of conduct and conventions) that was issued by the Shiromani Gurdwara Prabandhak Committee (SGPC).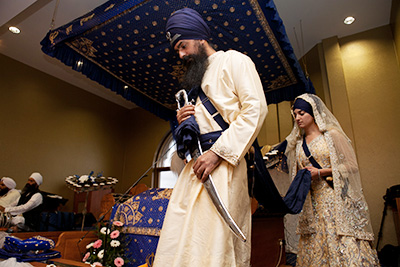 Each of the four Laav has a special significance and describes the marriage of the soul-bride to the divine husband. The hymns outline the progressive stages of the awakening soul-bride as she advances spiritually to ultimately blend with the divine groom in the dawning realization of her divine destiny. The Lavan hymns are compositions of Guru Raam Das, and were written for the occasion of his own wedding to Bibi Bhani. They are meant to fuse the soul of bride and groom into one conscious being who is subsequently wedded to God in spiritual union. The verses of the Lavan are from the scripture of Guru Granth Sahib. The Gurmukhi words are spelled out phonetically here and appear above an English interpretation of their meaning.
In a recent verdict of the Sri Akaal Takht Sahib,i.e. a Hukumnama, Anand Karaj can only take place in a Gurudwara. Any Amritdhari (Baptized) Sikh may perform the marriage ceremony. Pakistan passed the Sikh Anand Marriage Act in 2007. A Sikh from anywhere in the world can register his or her marriage there, though the marriage ceremony has to be conducted in the country as it extends the provisions of the law applicable to any Sikh irrespective of his nationality. There had been instances when Sikhs from various countries had got their marriages registered in Pakistan. In 2012,India Passed The Anand Marriage (Amendment) Bill, 2012,Sikhs will be able to register their marriages under the Anand Marriage Act instead of the Hindu Marriage Act, with President Pratibha Patil giving her assent to a Bill passed by Parliament on June 7,2012 in the Budget session.