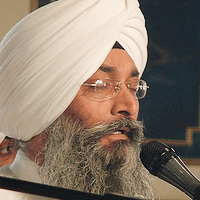 The Atam Ras Kirtan Darbars were very popular around the world, particularly for collaboration of famous Kirtani artists and drew crowds of sangat from far and wide. The likes of Bhai Harjinder Singh (Sri Nagar Wale), Sant Anoop Singh (Una Sahib Wale), Bhai Niranjan Singh (Javaddi Kalan Wale), Bhai Balvinder Singh (Rangila) and Bhai Harbans Singh (Jagadhri Wale) are just a few of the known Kirtani who have taken part in these Kirtan Darbars in the past and all smagams in India were also released by T-series on DVD's and CD's, making it one of the labels most successful titles. Atam Ras basically means the "Sensation of the Soul".
At the beginning of the year 2004, it was announced that the Atam Ras Kirtan Darbars, which had been happening in India up until then, were due to be held in United Kingdom for the first time. This really boosted spirits amongst sangat in England who were very excited about the prospects of such great Kirtani coming together for the first time, near their own homes. What they had seen only on DVD's up until now was about to come to life. The Kirtanis announced included Bhai Harjinder Singh, Bhai Maninder Singh (Sri Nagar Wale), Bhai Joginder Singh Riaar, Sant Anoop Singh and Bhai Maninderjit Singh.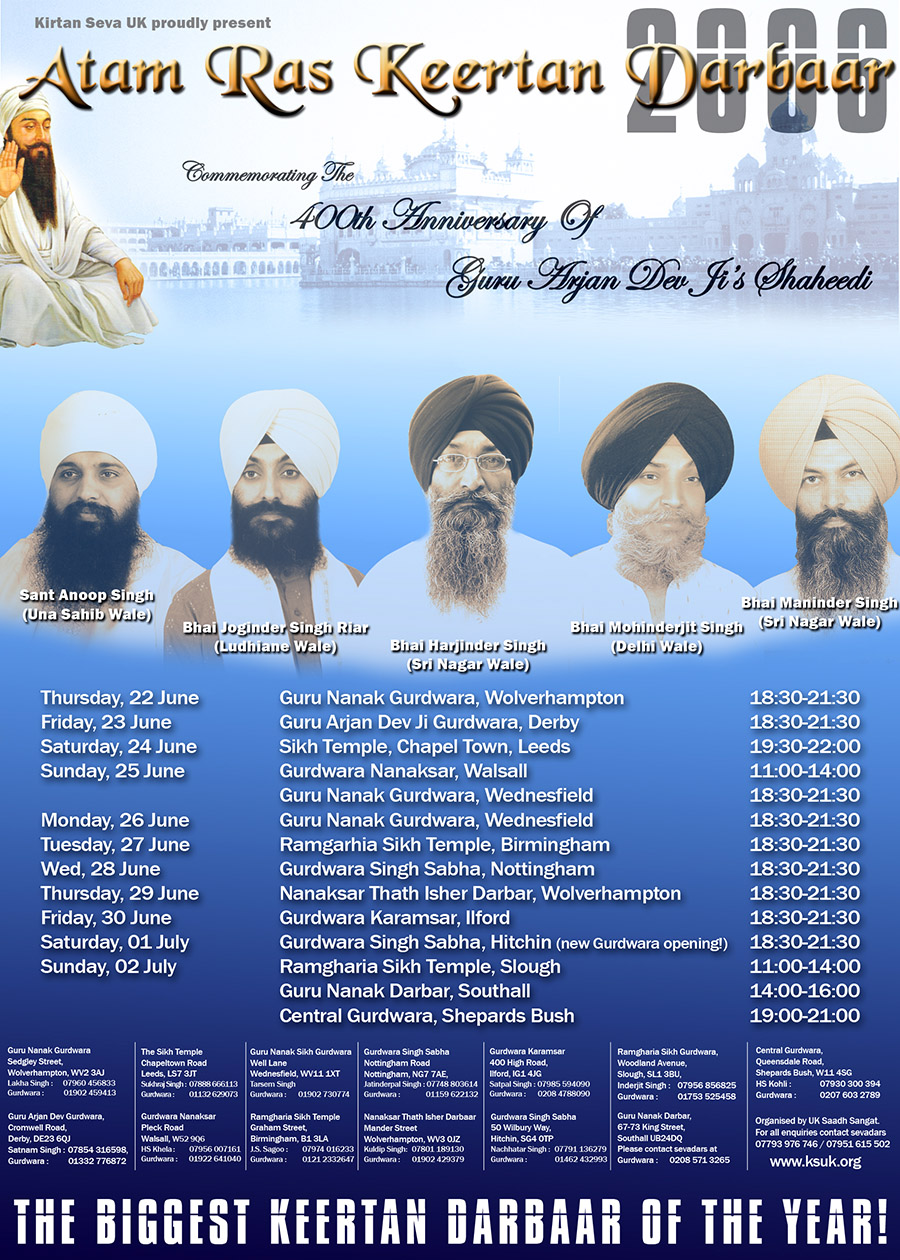 Although all of these jathas were extremely popular at the time, the excitement particularly brewed at the prospect of the two brothers, Bhai Harjinder Singh and Bhai Maninder Singh, collaborating together again. They had served over two decades together as one jatha up until 2002 when they separated citing family issues as the cause. Bhai Maninder Singh (the side Kirtani) left the jatha and formed his own so there was much talk about these two brothers in particular.
The programs certainly lived up the hype that was created. At each divan, DVD's and CD's of the program were created straight away at the Gurdwara and were on sale within an hour of the final Ardas. This alone was very impressive and something which hadn't been done before. The costs of organizing the entire tour was far greater than the revenue raised by donations and sales, but organizers, particularly Charanpreet Singh Walia, were not put off by it. Charanpreet Singh had the dream and vision to bring Atam Ras to the UK for the sangat and was very successful in doing so. A lot of credit goes to him as well as Gurdwara Sri Guru Harkrishan Sahib Jee based in Manchester, England.
We have uploaded all the videos to youtube which you can watch via the playlist we have created. You can also view some of the photographs from Atam Ras 2006 below from our flickr page. 
Photos: http://www.flickr.com/photos/sikhroots/sets/72157639414132396/
Videos: http://www.youtube.com/playlist?list=PLouXbBJE5aX8IJMDgG4ZJj-RxsB9cBwhx